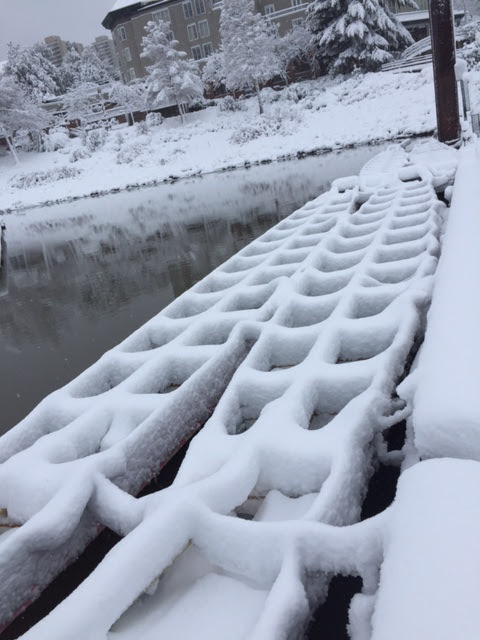 Weather
Any of many phone apps can report temperature, wind speed & direction, and cloud cover. Here are links for river and air conditions.
Northwest River Forecast Center – Willamette River hydrograph
Go/No-go Notification
If we cancel practice before arriving at the dock, an Alert will be sent to all GD members, usually by text msg to your phone, or by email. (See Using Teamsnap to setup your phone for Alerts.) IF YOU ARE IN DOUBT ABOUT PADDLING, CHECK YOUR TEXT MSGS/EMAIL BEFORE COMING TO THE DOCK!
Weather Criteria
Metric
Visibility at River Surface (daylight)1
150 yards or more; the Hawthorne bridge must be visible from the River Place dock
Visibility at River Surface (night)2
red & green bow lights and white stern light visible from 100 yards
Air Temperature3
minimum predicted air temperature @ 9AM for paddling is 32oF
Wind4
<17mph – 10 to 12 paddlers minimum
17 to 23mph – 14 paddlers
>23mph – no paddling
Storm forecast5
If storm forecast includes a warning for lightning, no paddling permitted
Air Pollution6
AQI > 100 – Unhealthy for Sensitive Groups
AQI > 150 – Unhealthy, no paddling
River Velocity at Morrison Bridge7
>2.5 fps (1.7 mph) 14 – 16 paddlers minimum
>3.0 fps (2.0 mph) no paddling
River Algal Bloom8
Oregon Health Authority, Public Health Division, issues advisories if cyanobacteria toxin levels exceed their criteria.
River E. Coli Count9
<406 is acceptable by Oregon Department of Environmental Quality
Combined Sewer Overflows10
If CSO occurs, Portlanders are advised to stay out of the water for 48 hours
City Severe Travel Warnings/Portland School Weather Closing11
no paddling
| | |
| --- | --- |
| Footnote # | Link |
| 1 | DSUSA Safety Rules & Guidelines, "Fog/Reduced Visibility" |
| 2 | DSUSA Safety Rules & Guidelines, "Rules Applicable to all DSUSA Boats, #6" |
| 3 | Operational Procedures Appx 5 – GD Water Safety Plan, "Sect. D-a-6" |
| 4 | DSUSA Safety Rules & Guidelines, "Wind" |
| 5 | DSUSA Safety Rules & Guidelines, "Lightning" |
| 6 | AirNow, Portland Air Quality |
| 7 | DSUSA Safety Rules & Guidelines, "Current" |
| 8 | Oregon Health Authority, Cyanobacteria Blooms, "Current Advisories" |
| 9 | City of Portland Oregon Bureau of Environmental Services |
| 10 | City of Portland Oregon Bureau of Environmental Services |
| 11 | Operational Procedures, "Sect. III-C-2" |