Topic List (click link to go to topic)
---
Login to TeamSnap
– Use the blue button below to open a new tab with the login for TeamSnap (TS). Bookmark that login screen.
– Login using your email addr and TS password.
– At the "TeamSnap Dashboard", drop-down the "My Teams" button and choose "Golden Dragons…".
– Switch back and forth between TS and this tab as you follow the instructions you are interested in.
---
Communicate with GD members
Be aware that there are 4 methods in TS, for both web and phone, of communicating among GD members.
1. Email – the sender must login to TS with a web browser or the TS mobile app to compose and send; recipients don't need to be logged in. To learn how to use TS Email, please open this TS Help article: Instructions for Email.
2. Chat (not recommended) – most useful as real time communication; both the sender and the recipient(s) must be logged in on their TS Mobile app.
3. Alerts – like email except msg is pushed to TS mobile app; most useful for immediate information. Creating an Alert is a similar process to creating an Email: Instructions for Alerts.
4. Posts (not recommended) – like a bulletin board; both sender and recipient most often need to login to see it.
---
Install TS mobile app; Configure your phone to receive push TS Alert msgs
TS Alerts are msgs pushed to your phone for immediately necessary information, like "Paddling is canceled today".
– Install the TS mobile app in the way usual to your phone from the Android or iOS app store.
– Launch the app, login with your email addr and password. Choose 'GD' in 'Teams'. You will receive TS Alerts only if you remain logged in to this app, so you can 'close', 'dismiss' or 'quit' the app in the usual way depending on your OS, but don't 'logout' of the app.
– Tap the menu icon (3 horiz bars) and choose 'Notification Preferences' (Android) or 'Mobile Preferences' (iOS). Toggle on the 'Alerts and Sched Changes' under 'Mobile Notifications'. Nothing else is needed, but you can set other personal preferences. Save changes: Android – tap 'done' checkmark; iOS – automatic. Dismiss the app.
– The TS mobile app has an anemic built-in sound for notification, which will be used unless you change the OS setting for this app. For Android – on the main phone screen where you launch apps, long-hold the TS mobile app icon until you can tap the pop-up 'app info' (or the 'i-in-a-circle' icon), tap 'notifications', make sure TS notifications is toggled on, tap 'advanced', tap 'sound' and choose the notification sound you want, e.g. 'default'. For iOS – find the analogous place you can set the notification sound for the app. You're done.
---
Access GD members-only documents
These instructions will provide you with the link to the GD Private Documents repository. You must login to TS to get the link. (Because the link is protected with your TS password it is not publicly available or searchable in Google, and should not be made public.) When you have the link, be sure to bookmark it in your browser so you don't have to go through this tedium next time.
– Login to TS; use blue button at the top of this page .
– Once logged in, click the Media tab (see #1 below), click Files (#2) and click GD Private Docs folder icon (#3).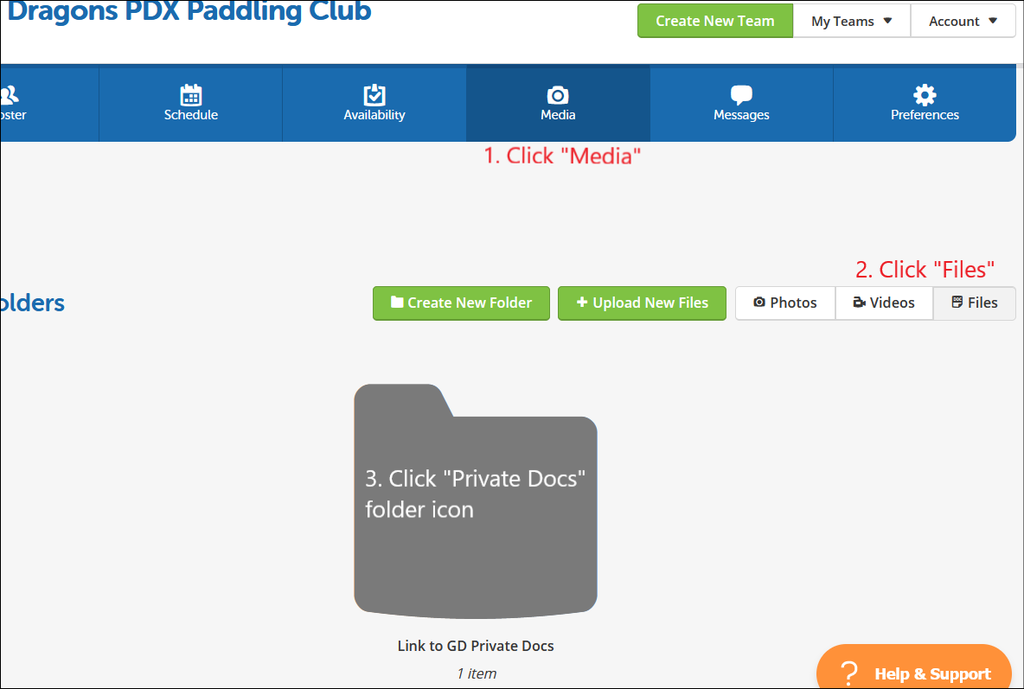 – On the next screen, click the "Private Docs …" file icon (#4) to expose the Comments. The first comment has the link to copy/paste into your browser (#5). You're done.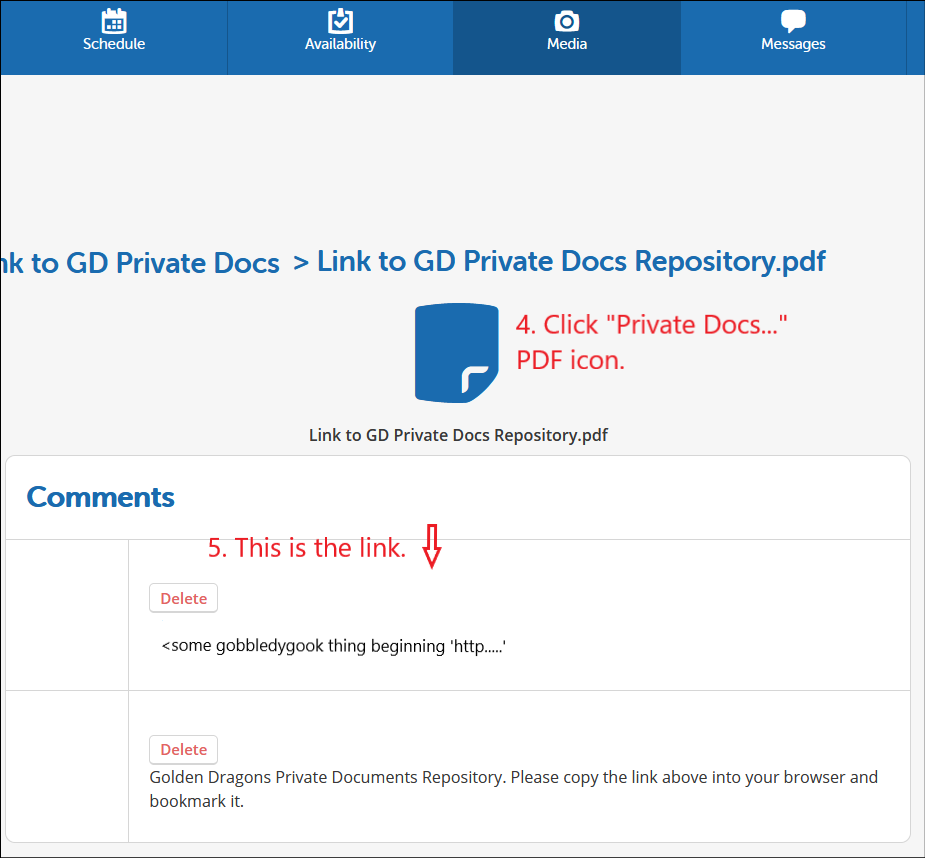 ---
Join, leave or list a GD race team
"Availability" is TS jargon for planned attendance for any DB race or event offered on GD's TeamSnap. If you want to join, leave or change your Availability for a race team, you can do so manually at any time. You can also scroll-down thru that column to see who is on the team.
– Login to TS; use blue button at the top of this page .
1. Click the Availability tab.
2. Scroll horizontally to find the column for the race/event of interest ("Rainier …" in this example). Scroll vertically to see who has signed up for the team.
3. Click the box in that column in the first row (with your name). The box could be empty or have a symbol in it.
4. You will see three choices, 'going', 'maybe', and 'no' pop up. Choose the one you want. You're done.
– Caution: Avoid clicking on any of the three choices under "Set Multiple:". It's not what it appears to be.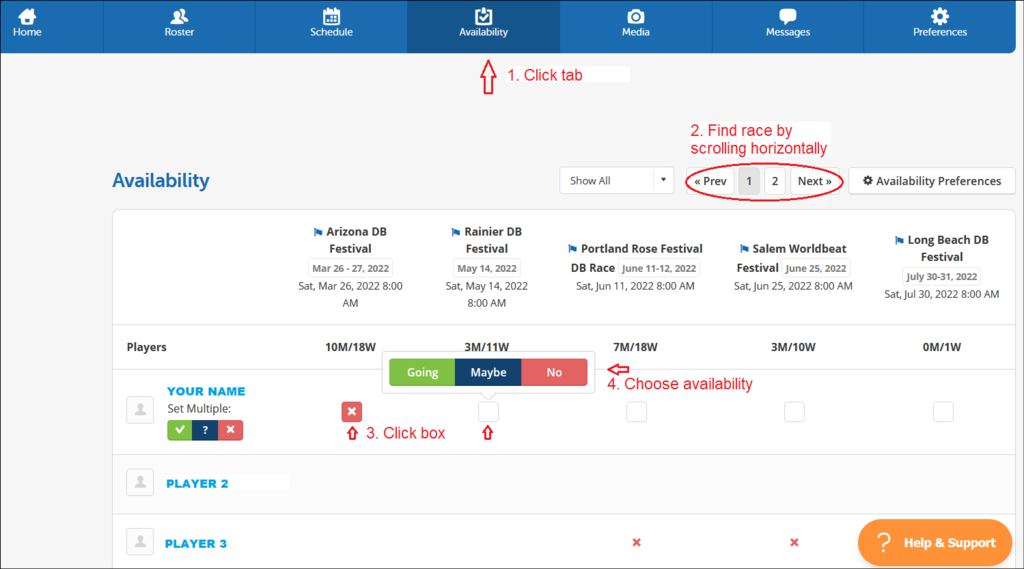 ---
Email only members on one race team
You can email just those members who have signed up to race in a single race. THIS CAN ONLY BE DONE USING THE TeamSnap MOBILE APP ON YOUR PHONE. Install the TeamSnap app in the usual way on your phone from the Android or iOS app store.
– Launch the app, login with your email addr and password. Choose 'Golden Dragons' in "Teams" section.
– Tap the 'Schedule' tab and then find and tap the Race you want to email.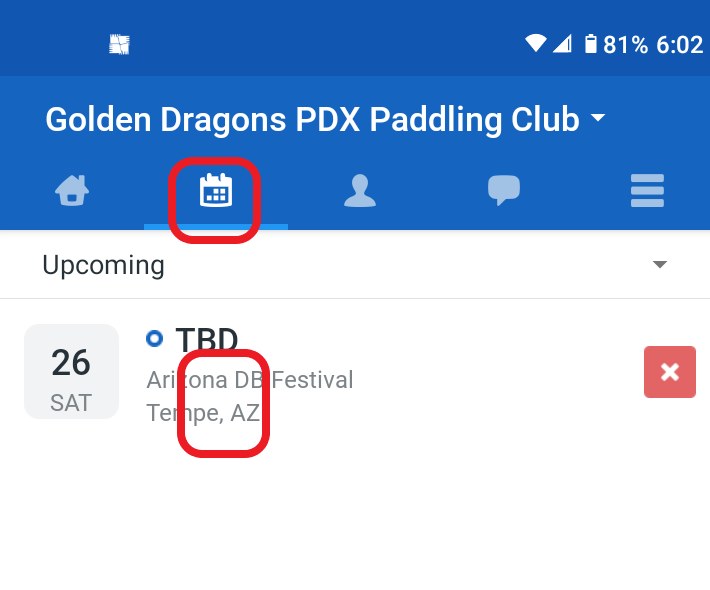 – Tap the 'Availability' tab. Note the first category the roster is organized in: 'Going (#)'.
– Scroll down to see the other categories and their counts: 'Maybe', 'Not Going' and 'Haven't replied'.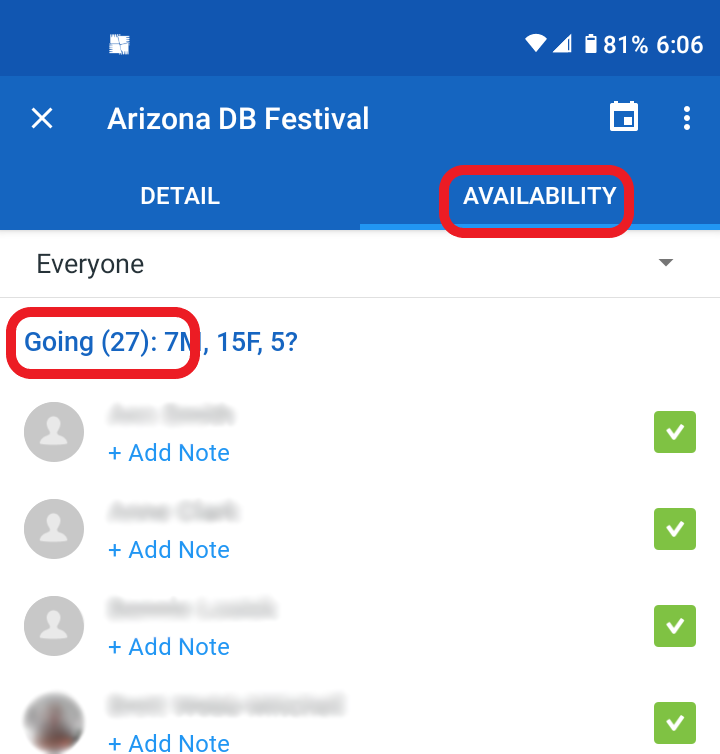 – As you scroll down, notice the 'orange envelope' icon floats in the bottom right corner.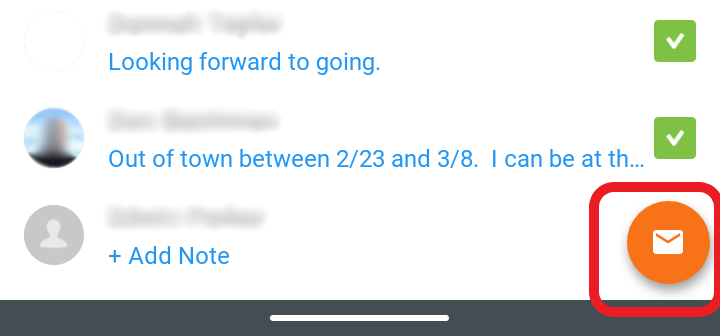 – To email this race team, tap the 'orange envelope' icon. Then tap one of the four categories to see a blank email form. Fill in Subject and Message, and send it.
– You must choose and compose an email to each category you want to communicate with, usually 'Going' and 'Maybe'.
---
Add your headshot to your profile
– Login to TS; use blue button at the top of this page.
– Open this TS Help article: Instructions for Profile Photo and follow the process (web or phone) you want to use.
Notes about your photo:
– The entire photo that you upload will be your profile photo, so other people, terrain, buildings, objects will stay in your profile photo. Therefore, …
– The best choice is a portrait orientation (long side vertical) selfie of just you, waist up, against a plain background.
– We recommend you do any editing, like cropping-, color-fixing-, de-aging-, cleaning up the background, etc., before you upload it.
---