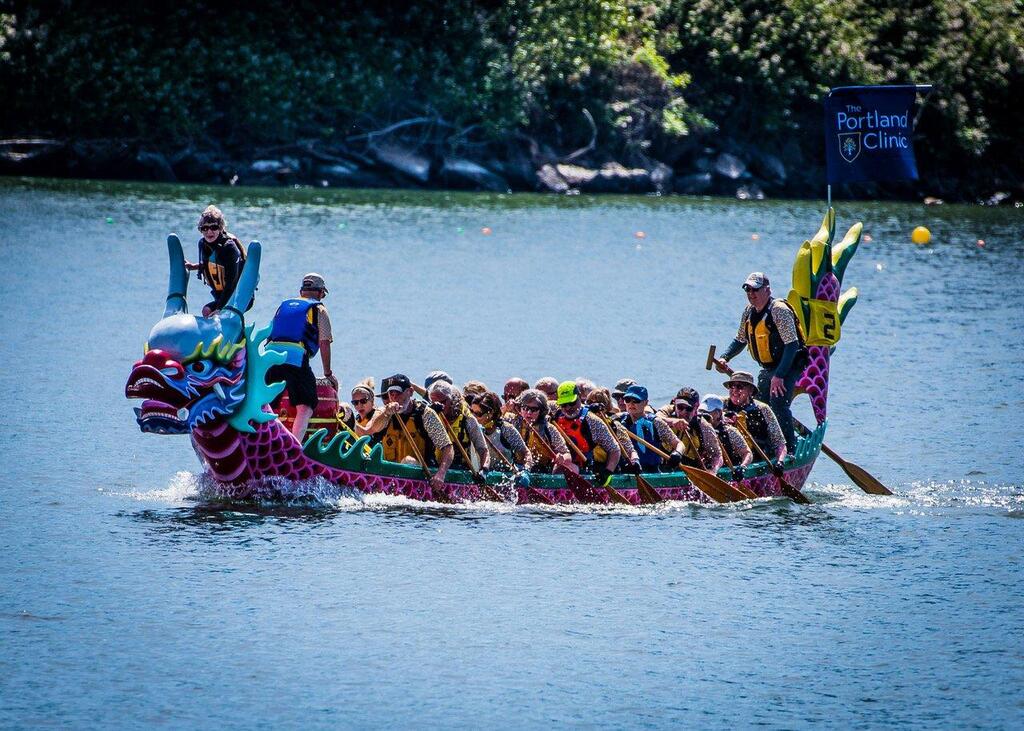 The Golden Dragons PDX Dragon Boat Paddling Club is men and women, at least 50 years old, who paddle dragon boats for fun, fitness and friendship year-round on the Willamette River in Portland, Oregon. The club was founded in 1996 and currently has more than 160 members. We are an all-volunteer 501(c)(3) nonprofit corporation.
COVID Considerations
All paddlers must be fully vaccinated and FULLY MASKED during the practice, beginning at the flag-pole plaza gathering place, and stay masked throughout the entire practice, on the dock and in the boats, until they return to the flag-pole. There is one possible EXCEPTION to this masking requirement: If there are enough paddlers to safely control a boat, and all paddlers in that boat are willing to paddle with unmasked paddlers, masking in that boat may be made optional while the boat is under way.
Any one new to paddling, at least 14 years old (minors accompanied by guardians), is welcome to paddle with us for three free sessions. Any current DSUSA member is welcome to pay DSUSA Open Practice fees and paddle with us as often as they wish.  All paddlers, new or returning, must pre-arrange their first paddling session (sign 2 waivers for DSUSA and 2 for GD, present proof of being fully vaccinated by photo of or actual CDC card or equivalent, the first time before getting on a boat).  See Paddle with us.
We practice Monday, Wednesday and Friday, 9 – 10 AM year-round, despite rain, heat or holidays (except during unsafe conditions announced here). We start at the North Dock of Riverplace Marina (see About).
The Golden Dragons also enter teams of interested members in about two dozen dragon boat paddling competitions each year. We regularly compete in the Portland Rose Festival Dragon Boat Race, other races from Tempe, AZ to Vancouver BC, as well as overseas.
Besides paddling and racing dragon boats, we also enjoy spontaneous and planned get-togethers for hiking, skiing, kayaking, food, birthdays, lectures, full moon paddles, biking, walks, holiday parties and other convivial activities. This is an awesome way to make new friends, stay in shape and enjoy yourself!